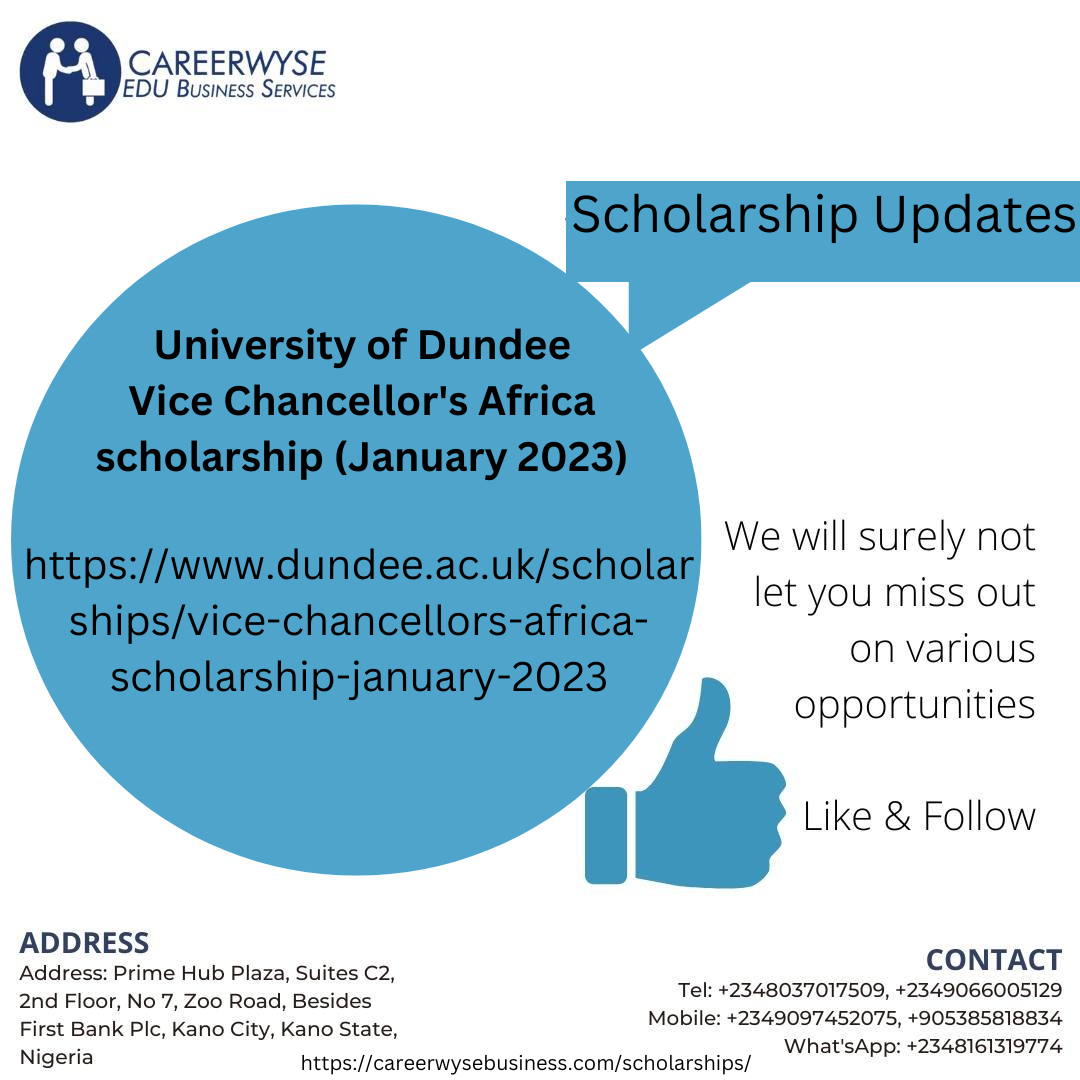 Overview
The University of Dundee is offering scholarships of £5,000 per year of study to prospective African students who wish to study undergraduate or postgraduate degree in the UK for fall intake, September 2023. This scholarship is up to a maximum value of £25,000 to applicants living in Africa.
To be eligible for an award, you must meet all the following criteria:
Have an offer to study:

A full-time, Undergraduate course excluding any courses in the School of Medicine or the School of Dentistry OR
A full-time, 180-credit postgraduate taught course over the course of 1 year. If you are studying a 2-year full-time postgraduate taught course, you may be eligible for the award in both years.

Be domiciled in an African country (please see key facts document for a full list of eligible countries).
Have International fee status as determined by the University of Dundee.
Why study at the University of Dundee? At the university of Dundee, students are taught the skills they need to maximize their potential and make confident, well-informed decisions toward their goals. It also provides them with the knowledge and assurance they require to make a difference.
How to apply
There is no separate application form for this scholarship.
You must apply to study a course at the University of Dundee first and your eligibility will be assessed as part of your course application.
We will notify you in writing if you have received a scholarship.
Application Deadline
The deadline for this scholarship is Wednesday 30 November 2022 at 23:59 (UK time)
Eligible countries
Please note that only candidates from the eligible countries listed below can apply for the Vice Chancellor's African scholarships;
Algeria, Angola, Benin, Botswana, Burkina Faso, Burundi, Cameroon, Cape Verde, Central African Republic, Chad, Comoros, Congo, Congo (Democratic Republic), Djibouti, Egypt, Equatorial Guinea, Eritrea, Eswatini, Ethiopia, Gabon, Ghana, Guinea-Bissau, Ivory Coast, Kenya, Lesotho, Liberia, Libya, Madagascar, Malawi, Mali, Mauritania, Mauritius, Morocco, Mozambique, Namibia, Niger, Nigeria, Rwanda, Sao Tome and Principe, Senegal, Seychelles, Sierra Leone, Somalia, South Africa, South Sudan, Sudan, Tanzania, The Gambia, Togo, Tunisia, Uganda, Zambia, Zimbabwe, British Indian Ocean Territory, St Helena, Ascension and Tristan da Cunha
Type: Undergraduate or Postgraduate degree
Sources: https://www.dundee.ac.uk/scholarships/vice-chancellors-africa-scholarship-january-2023
Goodluck!!