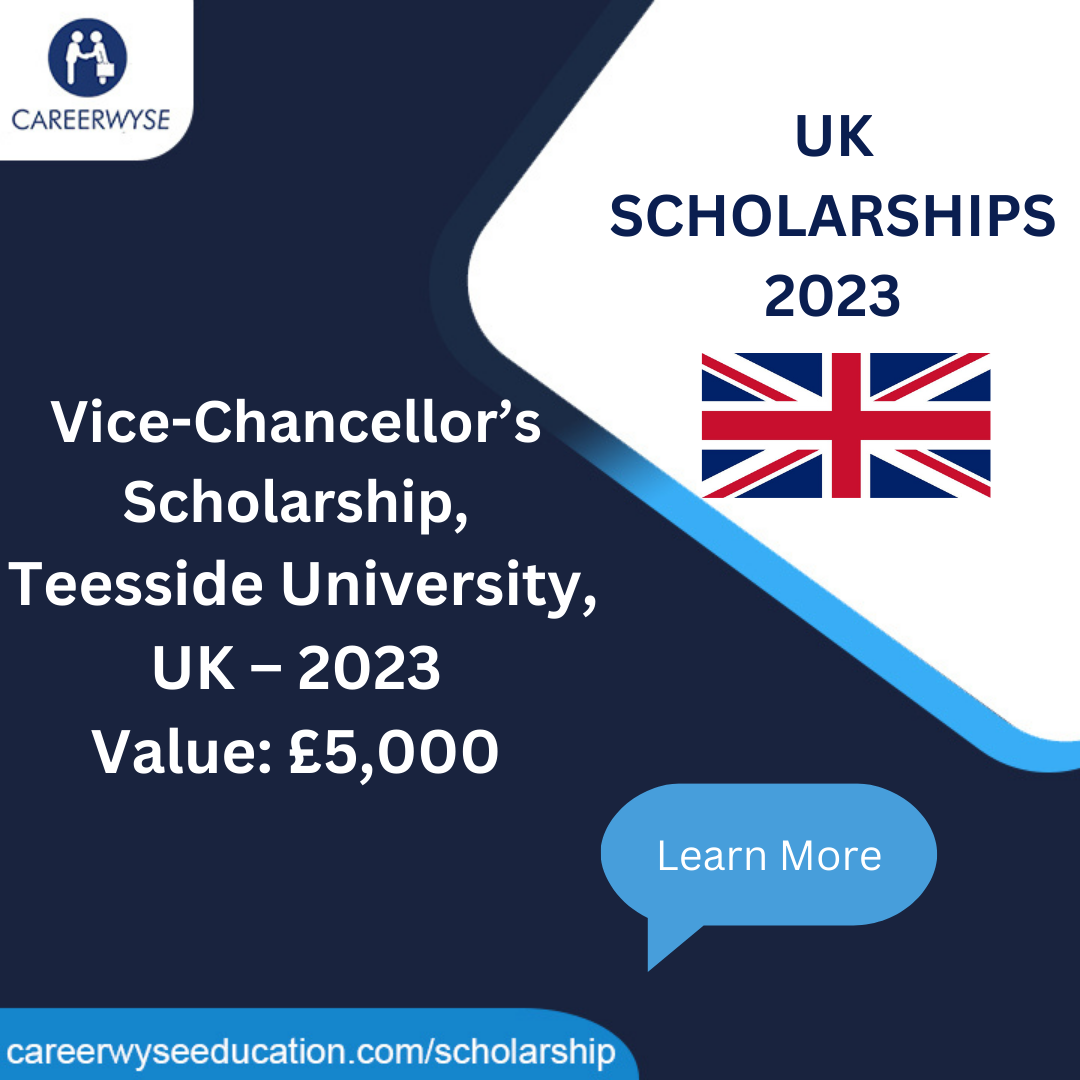 Teesside University, UK, Vice-Chancellor's Scholarship – 2023.
Teesside University in the UK presents an esteemed scholarship opportunity aimed at exceptional students who possess remarkable abilities and a strong dedication to becoming influential leaders on a global scale. These scholarships have been specifically created to support international students who are enrolling for the first time at Teesside University in September 2023, with the intention of pursuing an undergraduate or postgraduate taught degree.
Application Deadline: 5th June, 2023. @17:00 GMT.
Eligible Countries: International Students
Type: Undergraduate or Postgraduate
Value of Award: £5,000 Each
Number of Awards: 30
Location: Middlesbrough, UK.
Eligibility Criteria: To be considered eligible for the Vice-Chancellor's Scholarship, you must meet the following requirements:
1. You must be a sincere applicant, with the intention of pursuing an international fee-paying undergraduate (including Level 0) or postgraduate taught degree program at Teesside University.
2. You must be enrolling for the first time at Teesside University and commencing your course in September 2023.
3. You need to submit a completed application for assessment.
Application Process: Take the following steps to apply:
1. Click on the "Apply Now!" button to access the application form.
2. Complete the application form and ensure that your personal statement does not exceed 500 words.
3. Within your personal statement, demonstrate the following:
– Showcase your exceptional qualities, both personal and academic.
– Highlight your dedication to becoming a future global leader.
– Explain how you plan to utilise your Teesside University degree to accomplish your future aspirations.
Source: www.tees.ac.uk
Source: https://myschoolscholarships.org/
Source: https://www.tfaforms.com/4709276
Goodluck!!
#careerwyse #CareerWyse_eduhub #degree #education #postgraduate #scholarships #studyinuk #studywithcareerwyse