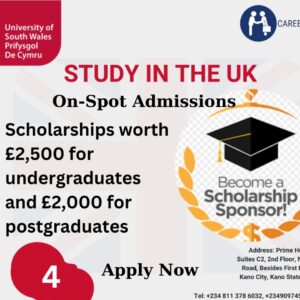 .
The University of South Wales is organizing free spot admission program for Turkey students from 25-28 October 2022
You'll be able to meet with Mr. Rezaul Karim, Regional Manager of the University of South Wales. He can help you apply right away or even offer immediate admission if your documents are up to date already – so don't wait any longer because this opportunity won't last long.
Why Choose USW:
✅ One of the largest public universities in the UK
✅ Some USW subject areas have been named Top in Wales ??????? and within the Top 20 in the UK
✅ 2500 GBP guaranteed scholarship per year
✅ Tuition fees are affordable
✅ Living cost in Wales is cheaper than other cities in the UK.
✅ Part-time job facility available
✅ Post study work facility available
✅ Over 50% of USW research is world-recognized.
✅ Have exclusive industry links
✅ Incredible support network
Apply directly now: https://www.southwales.ac.uk/apply/
or
To process your application, please email us the scan of the following documents mentioning the course you are interested in.
????????? ???????? ??? ?????????:
1. All-Academic Certificates & Transcripts
2. English Test Documents (T0EFL/IELTS Test)
3. 1 Letter of Reference / Academic Testimonial
4. Passport Bio-data pages
5. CV with contact details
6. Brief Personal Statements – 250 Words (Mention about yourself, proposed course, career plan, reason to choose USW, reason to choose UK)
English Requirement
?. Minimum of C6 in English language for WAEC.
B. We accept IELTS/TOEFL for UG and PG programs.
Location: ??? ??̈?? ????
eOfis, Nurol Tower Sisli,
Floor 2, Izzetpasa Mahallesi,
Yeni Yol Caddesi, No:3, 34387 Sisli, Istanbul
For more information do contact us.
? ??????:+905526685389
turkey@studysouthwales.co.uk
Salma: ☎️ +2349169037430
Email : study@careerwysebusiness.com