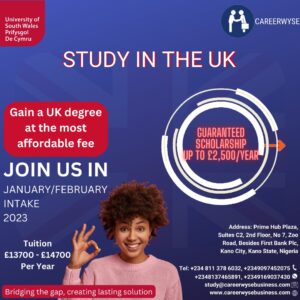 ?Don't miss the upcoming 2023 intake. Some of the UK universities aren't accepting new applications for Jan/Feb intake.
But the university of south wales is accepting applications for January/February 2023 intake.
Check available courses: https://www.southwales.ac.uk/international/jan-feb-2023/
??? ?????? ????
✅ One of the largest public universities in the UK
✅ Some USW subject areas have been named Top in Wales ??????? and within the Top 20 in the UK
✅ Up to £2,500 GBP guaranteed scholarship per year
✅ Tuition fees are affordable
✅ IELTS 6.0 is Acceptable
✅ Living cost in Wales is cheaper than other cities in the UK.
✅ Part-time job facility available
✅ Post study work facility available
✅ Over 50% of USW research is world-recognized.
✅ Have exclusive industry links
✅ Incredible support network
Apply directly now: https://www.southwales.ac.uk/apply/
or
To process your application, please email admissions@careerwysebusiness.com the scanned copies of the following documents mentioning the course you are interested in.
????????? ???????? ??? ?????????:
1. All-Academic Certificates & Transcripts
2. English Test Documents (TOEFL/IELTS Test)
3. 1 Letter of Reference / Academic Testimonial
4. Passport Bio-data pages
5. CV with contact details
6. Brief Personal Statements – 250 Words (Mention about yourself, proposed course, career plan, reason to choose USW, reason to choose UK)
??????? ????????????: (??? ?? ??? ??????????)
?. Minimum of C6 in English language for WAEC.
B. We accept IELTS/TOEFL for UG and PG programmes.
For more information do contact us.
Salma: +2349169037430
Samuel: +2348113786032
Email: study@careerwysebusiness.com admissions@careerwysebusiness.com
Website: www.careerwysebusiness.com/contact-us/