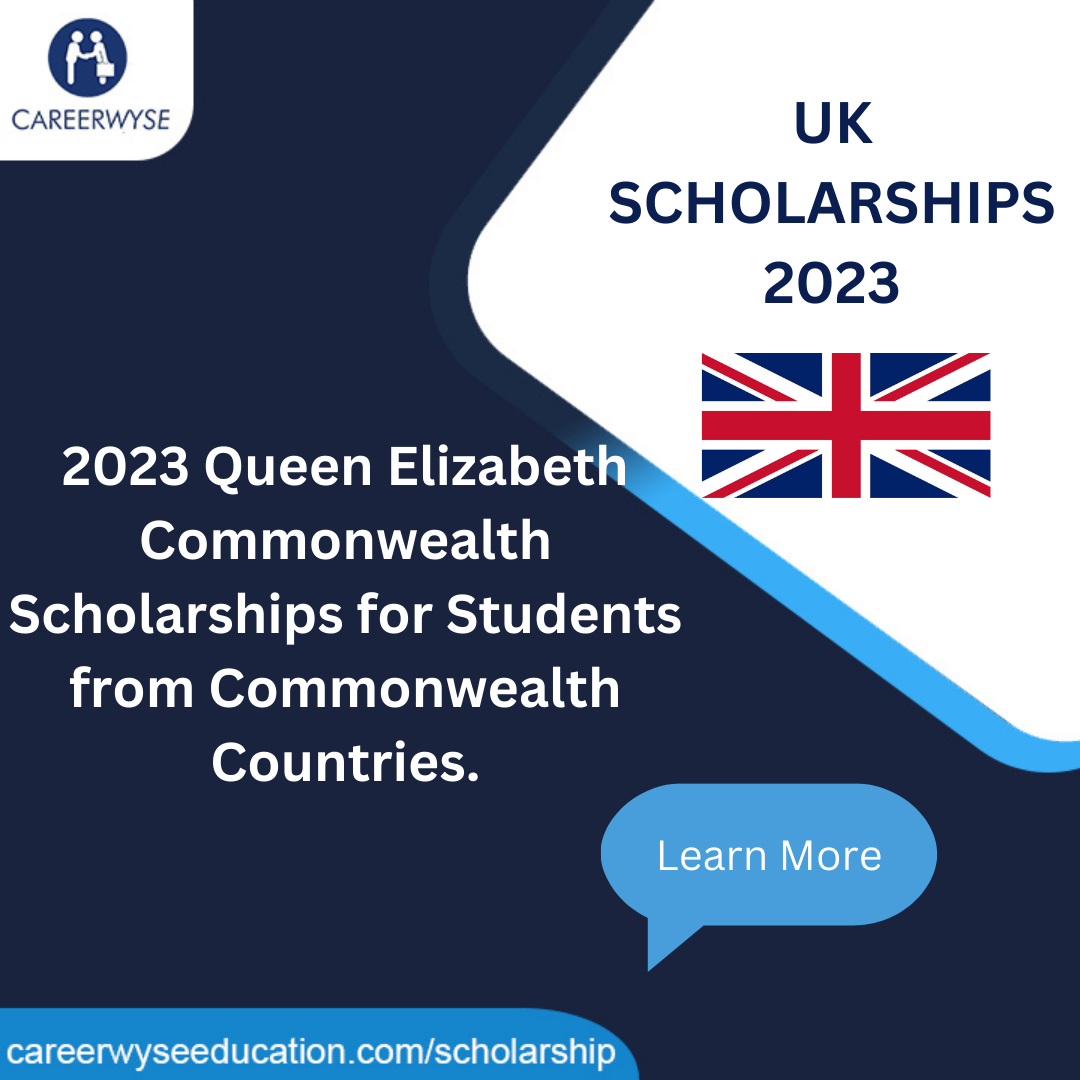 2023 Queen Elizabeth Commonwealth Scholarships for Students from Commonwealth Countries.
The Queen Elizabeth Commonwealth Scholarships for Students in Commonwealth Countries are now open for the year 2023. These scholarships provide a wonderful opportunity for students from Commonwealth nations to pursue their higher education goals. A wide range of subjects and disciplines are covered under these scholarships, including but not limited to arts and humanities, social sciences, engineering, health, and sciences. Here are some key details:
Application Deadline: 24th May, 2023.
Eligible Countries: Commonwealth countries
Type: Postgraduate (The scholarships support both Master's and Ph.D. level study programs).
Value of Award: Queen Elizabeth Commonwealth Scholarships offer a life-changing opportunity for cultural exchange and academic collaboration in unique environments across the globe
Award allowances include:
Fully-funded tuition fees
Living expenses (stipend) for the duration of the award
Return economy flight
One-off arrival allowance
Research support grant (on request)
Duration of Programme: 2 years
Location: UK.
Eligibility: The scholarships are available to citizens or residents of Commonwealth countries.
1. Applicants must hold a bachelor's degree or equivalent in a relevant field of study.
2. Application Process: Interested candidates need to submit an online application through the official Queen Elizabeth Commonwealth Scholarships portal. The application typically includes personal details, educational background, study plan, and references.
3. Selection Criteria: The selection process is competitive and based on various factors including academic merit, potential impact of the proposed study program, and the applicant's leadership qualities.
The Queen Elizabeth Commonwealth Scholarships provide a unique opportunity to study in prestigious institutions across the Commonwealth, foster cross-cultural exchange, and contribute to positive change in communities worldwide.
How to Apply: Before submitting an application, please review the available courses and entry requirements above – in addition to the application guidance. For more information, please read the FAQs.
If you already have a MyACU account, you can access the grant application form here.
If you do not already have a MyACU account, please ensure that you first register for an account here and then follow the instructions in the registration email to log in to the system before accessing the application form.
Source: www.acu.ac.uk
Source: https://myschoolscholarships.org/
Source: https://crm.acu.ac.uk/ssp/register
Goodluck!!
#careerwyse #CareerWyse_eduhub #degree #education #postgraduate #scholarships #studyinuk #studywithcareerwyse